Meetings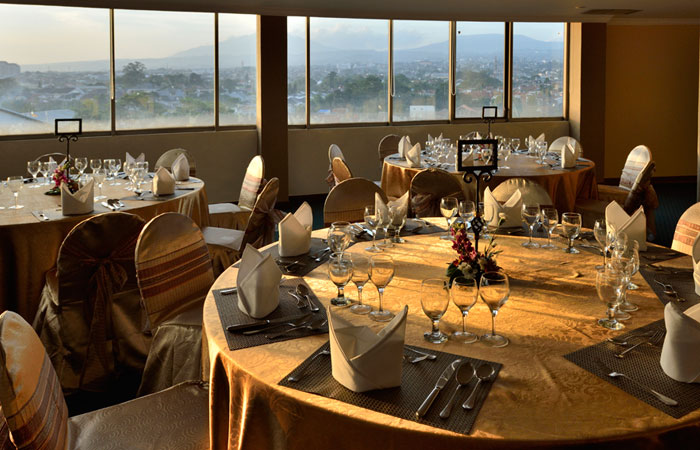 No meeting is too big or too small to be held at Grand Aquila Hotel Bandung. We have premises and service that adapt perfectly to your meeting goals and accommodate the most demanding presentation and communication requirements. Experienced, discreet and professional Grand Aquila personnel are on site to promptly respond to the needs of everyone and go out of our way to ensure that every detail is as perfect as possible.
Together we tailor-make a solution to fit the occasion, making it optimal for you and your business with the conference premises we have today.
Technical Assistance
Set apart in a distraction-free environment, all meeting spaces at Grand Aquila Hotel Bandung are fully equipped to support the most technologically demanding presentations, with advanced lighting, audiovisual and staging capabilities, as well as telecommunications and electrical hook-ups. Voltage is 220 volts and adapters are available on request.
State-of-the-art audiovisual equipment includes :
Projection booths
High-speed Internet access
Built-in screens
CD and DVD players
Wired or wireless Internet access in meeting rooms
Music & Entertainment
Our team of Banquet Sales and Services personnel will be happy to assist in arranging any type of music and entertainment to complement any part of your function or event.
Receiving & Maintenance
We are happy to handle your shipments prior to an event and keep them secure in our storeroom. All shipments should be sent to the attention of a group's name and its banquet services manager. However, due to limited space, any delivery should be coordinated in advance through our Banquet Services Manager. Please time shipping to the dates of your arrival.
Receiving dock
Please contact your Banquet Services Manager for special arrangements for the delivery of oversized packages or environmentally sensitive equipment.
Post-conference shipping
Shipping of post-conference materials may be coordinated through your Conference Services Manager.
Maintenance
The engineering department is available 24 hours a day for general assistance with lighting, room temperature control and minor repairs.
Welcome Amenities & VIP Gifts
Special arrangements can be made for clients to purchase welcome amenities or floral arrangements for their important guests.